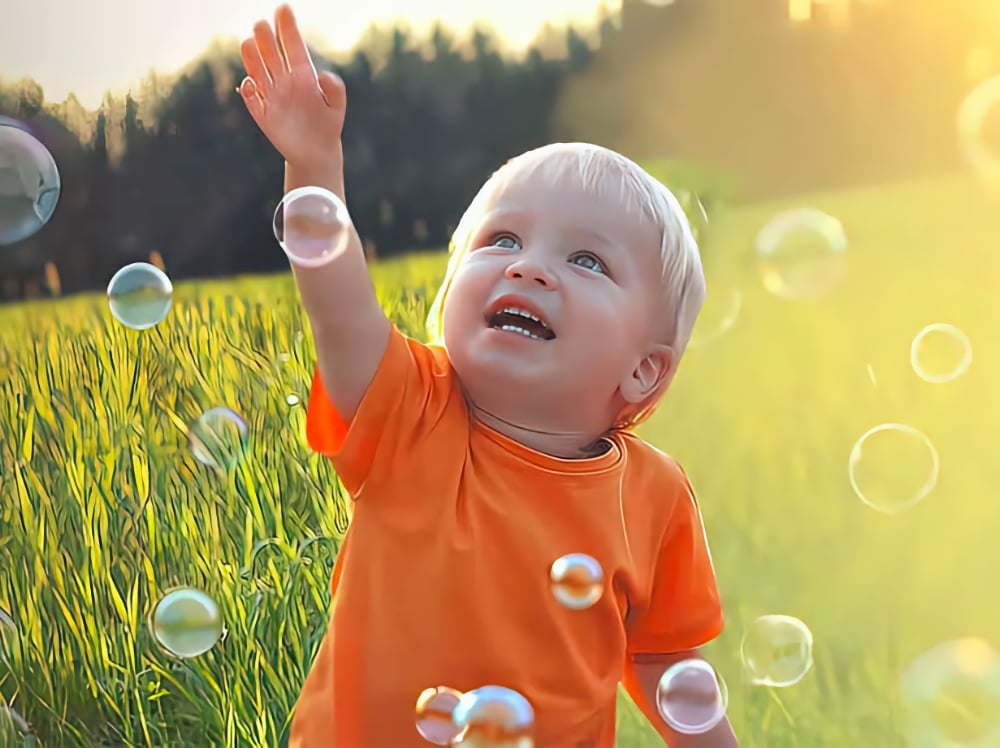 A Love Of Learning Begins at
KID'S WORLD LEARNING CENTER
With Joy, Wonder and Play
The World-Class Experience Every
Parent Wants For Their Child
Preschool & Daycare Serving Houston, Cypress, Aberdeen & Copperfield TX
Proudly Serving our Community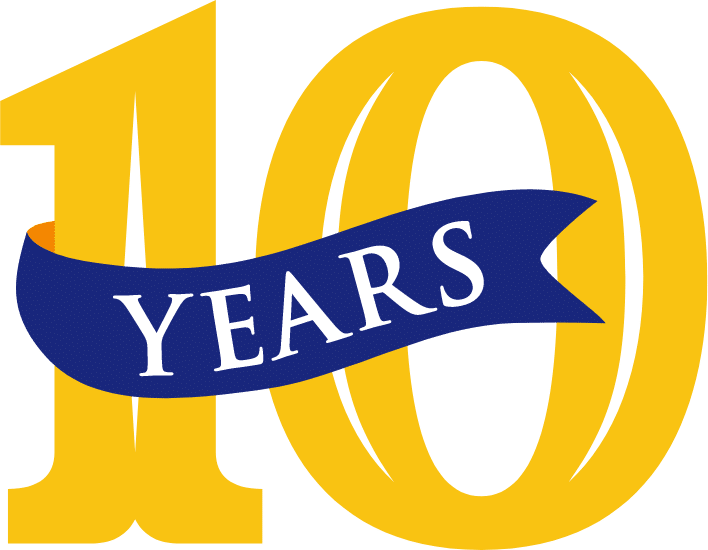 A Family-Friendly Environment That Every Parent Raves About
The ownership team is on-site daily to make sure that both families and the grounds are well cared for. With staff that takes pride in ownership and a family-friendly environment encouraging parents to communicate openly with staff, it ensures that your child receives the warmth and love they deserve.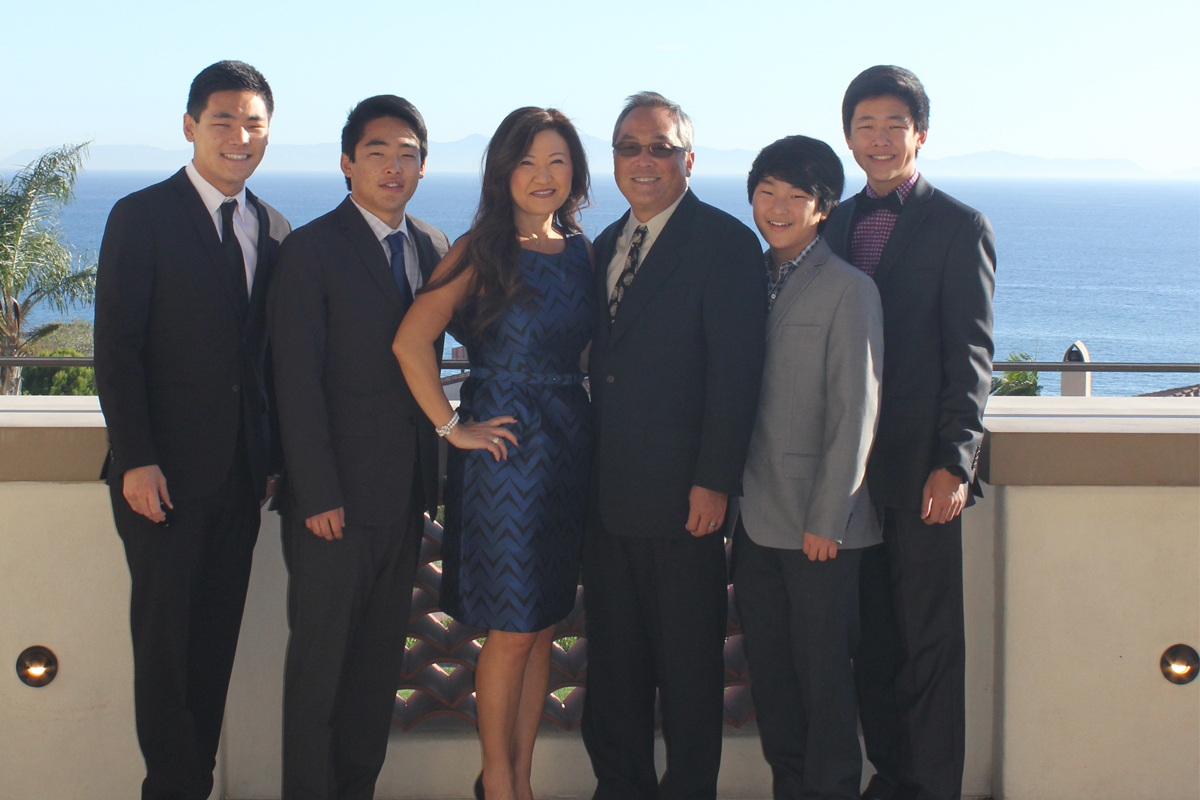 Living Magazine's 2023 Reader's Choice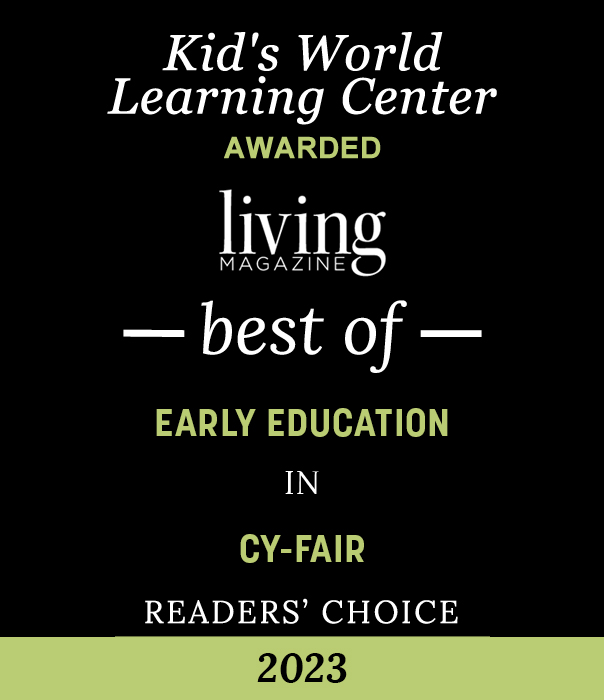 Best Of Early Education In

CY-Fair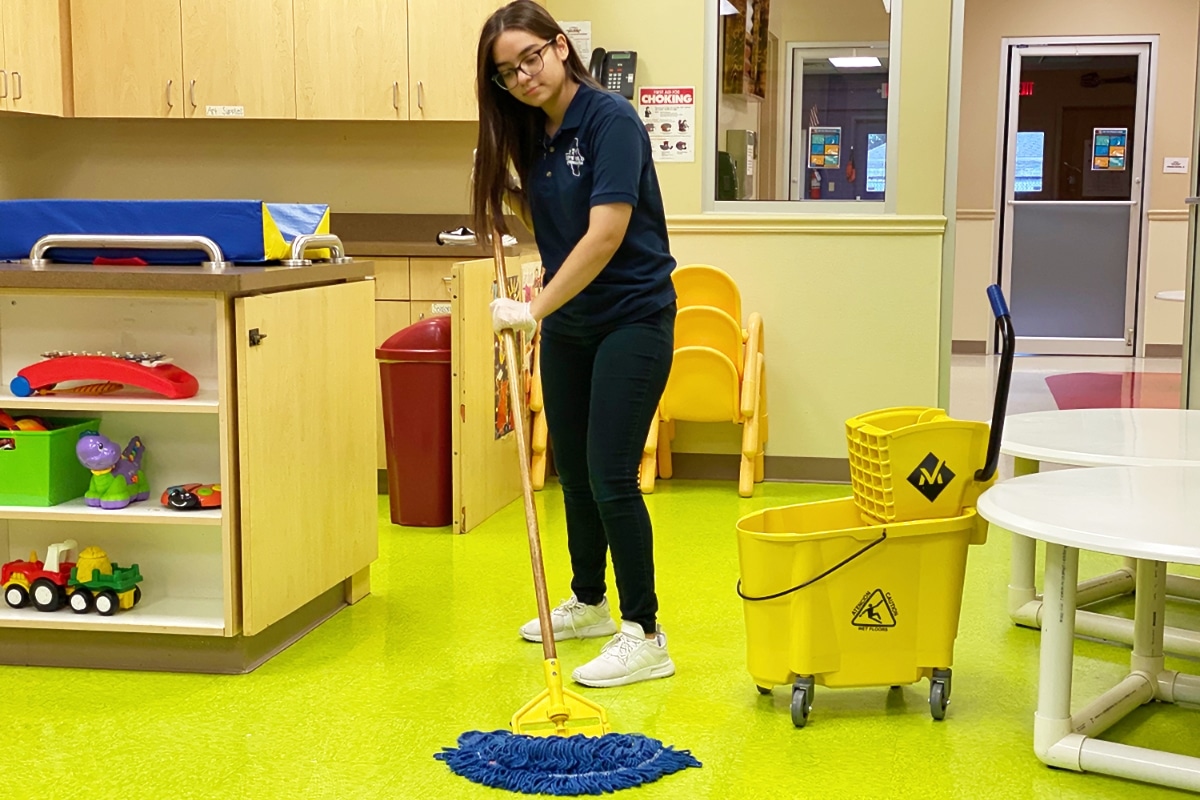 A Sparkling Facility Keeps Your Little One Happy & Healthy
A sparkling clean, clutter-free school is the top priority. Teaching staff guides your child through proper hand washing hygiene and gives each classroom and high-touch area a deep cleaning ensuring that your child returns to a meticulous environment in the morning.
Your Child's Health & Safety Come First
Rest easy knowing that your young learners are secure with safety protocols, including a fully fenced-in yard and keypad access on all doors. Fire drills are regularly conducted, while playgrounds are inspected for potential hazards daily. Parents get great peace of mind with a top-tier, online secure camera system.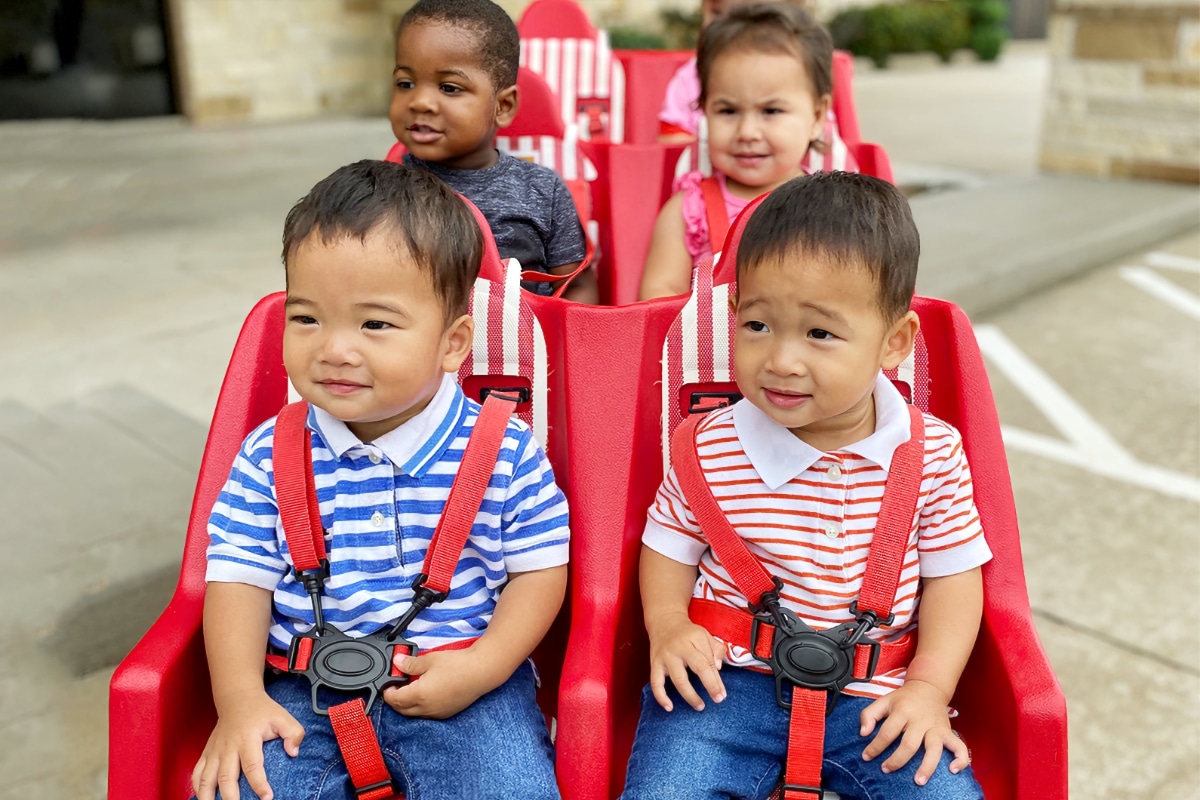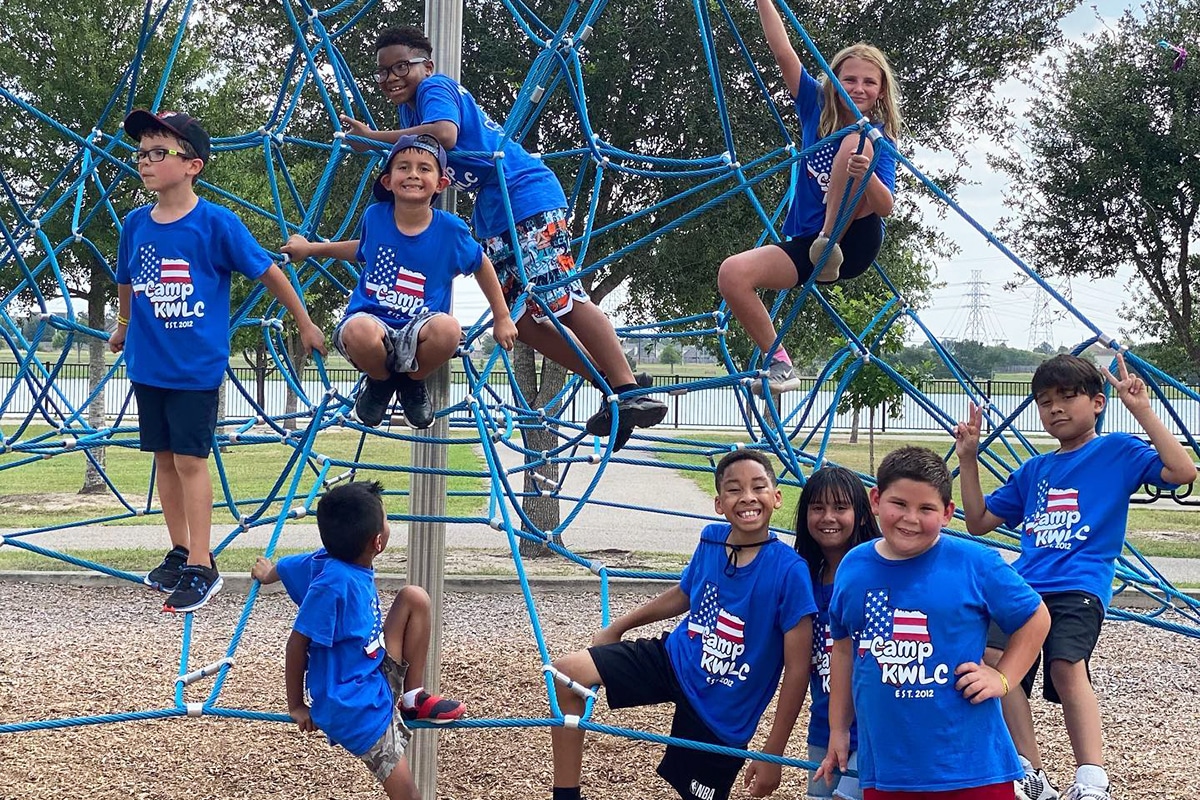 An Abundance of Outdoor Space Encourages Play & Exercise
Make use of a splash pad, five separate play yards, a swing area, a soccer field, a basketball court, and more! Outdoor time is scheduled at different intervals each day, and you love how each area is age-appropriate.
A Spacious Facility Designed Specifically With Kids In Mind
The center looks just like the resort of your kids' dreams! Packed with color, it offers a 2,000-square-foot gym, foosball tables, a DDR station, video games, ping pong, and air hockey tables!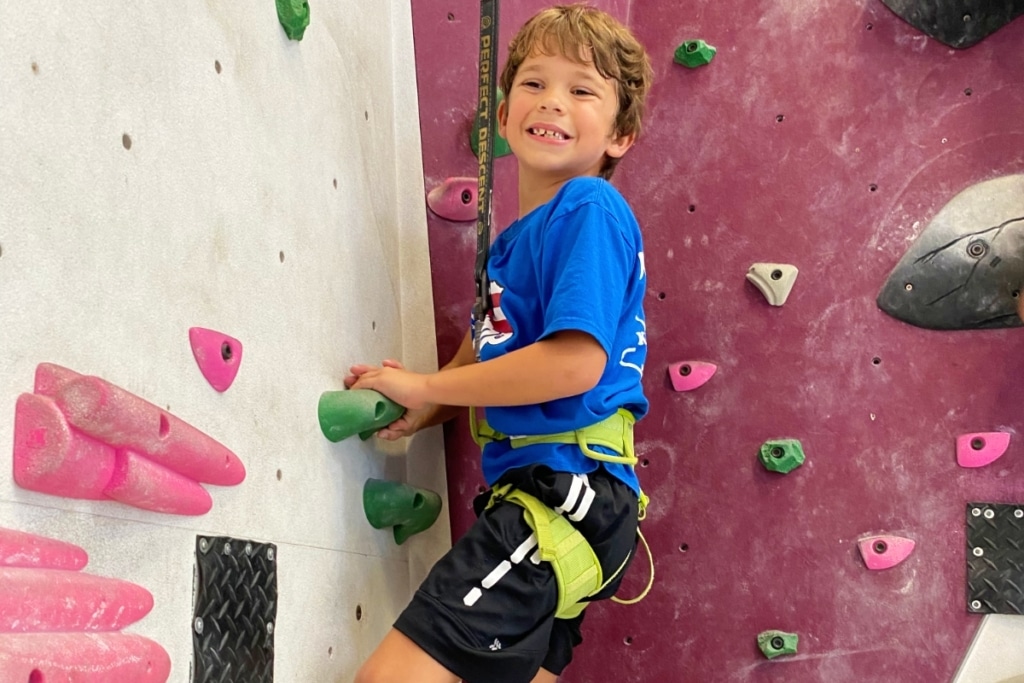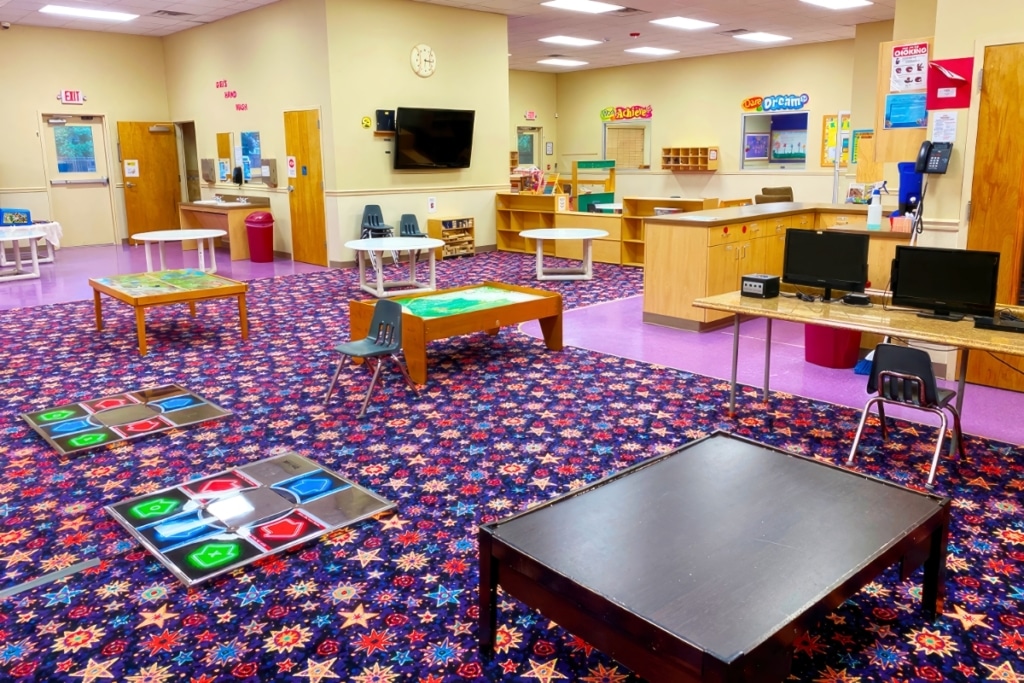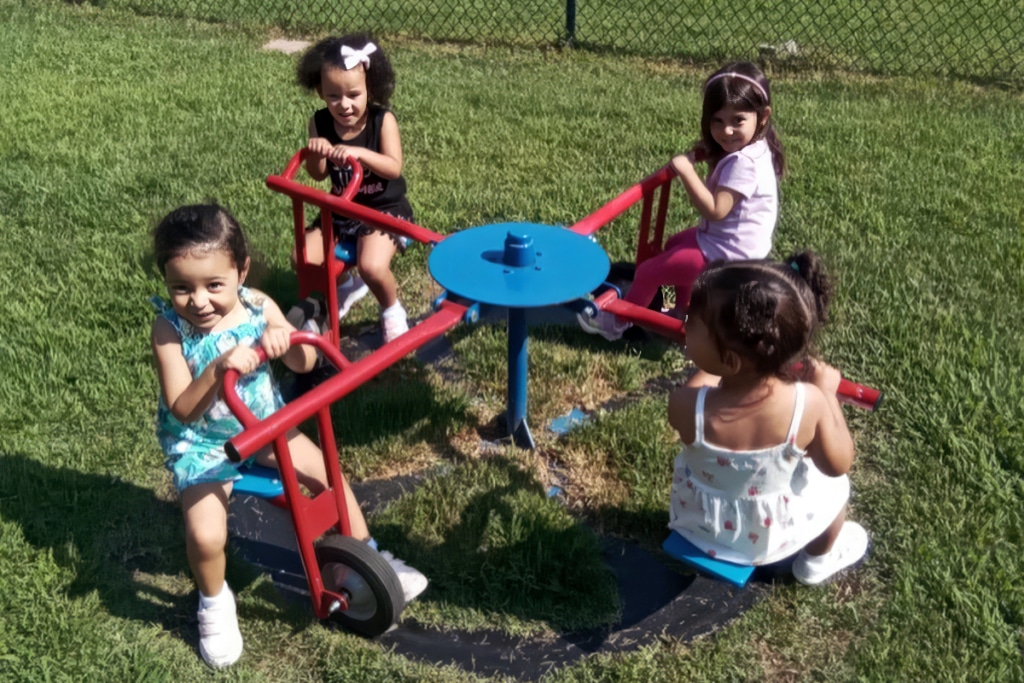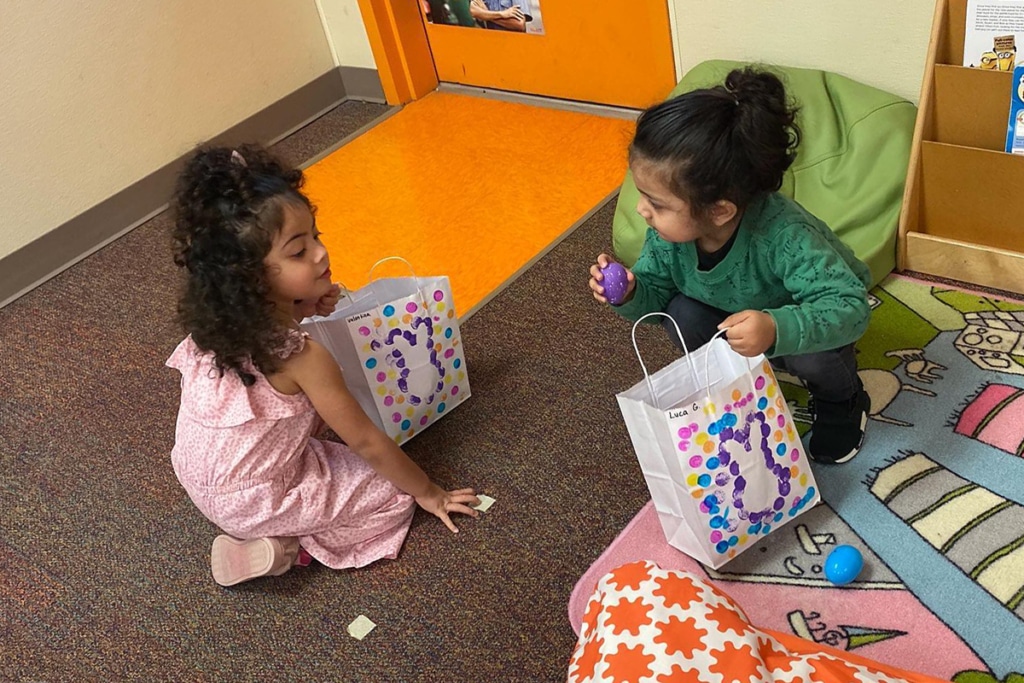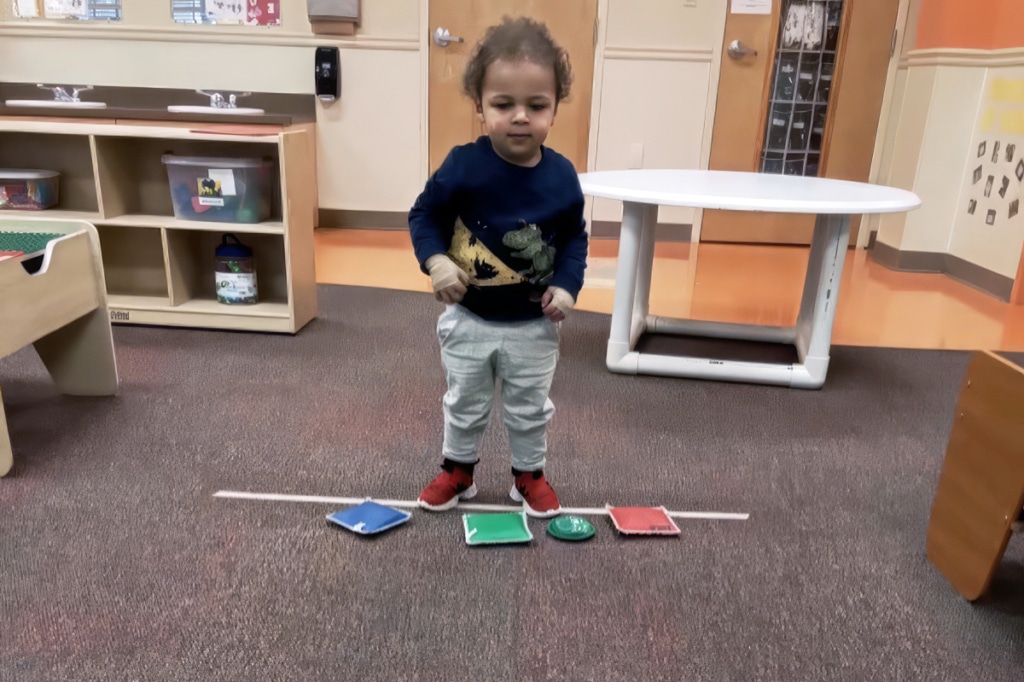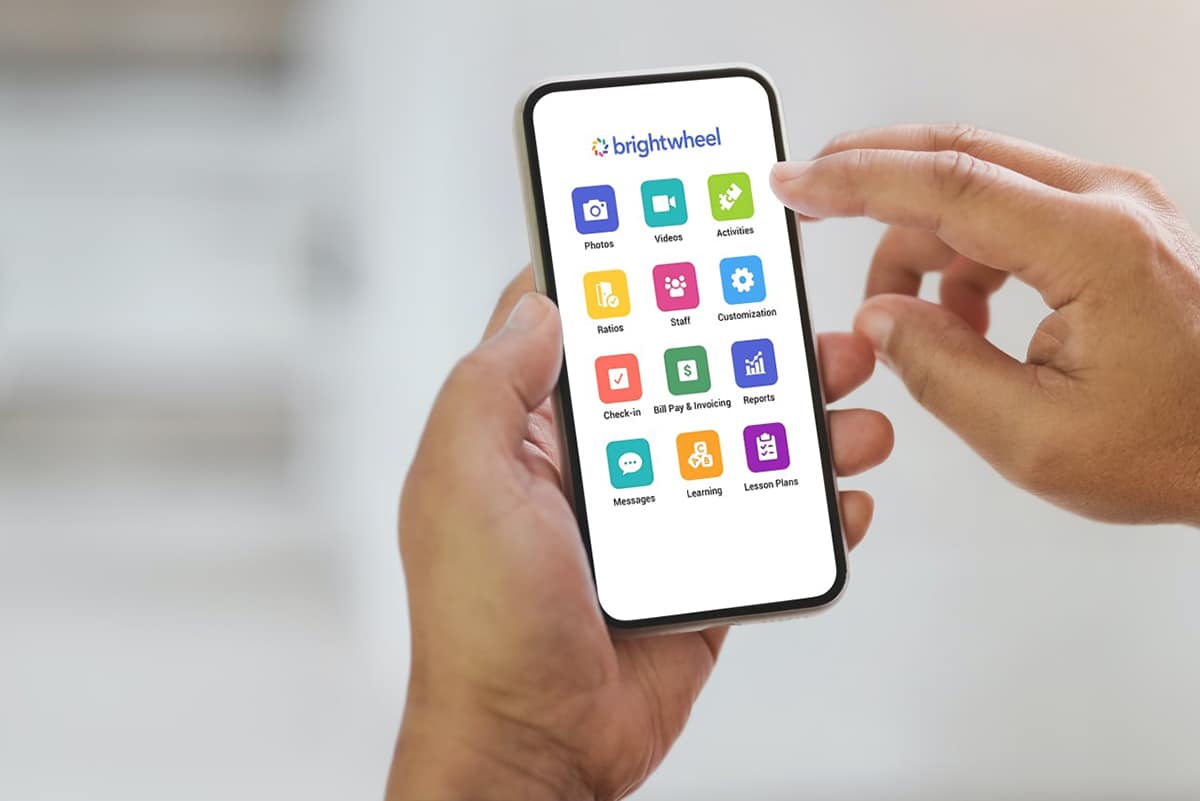 Parent Engagement App Keep You Updated All Day Long
Staying informed about your child's progress via the Brightwheel™ parent portal allows you to implement what they've learned in class in your homes. You also love receiving messages from your child's teachers that update you with cute pictures, highlights, and daily progress.
Programs Rated 4 Stars By The State Means Early School Success
4 stars from Texas Rising Star means the highest quality care and learning. The trusted Frog Street© academic curricula, social-emotional learning with Conscious Discipline®, Steve Spangler's renowned science programming, and Texas School Ready™ teachers build a strong foundation for success.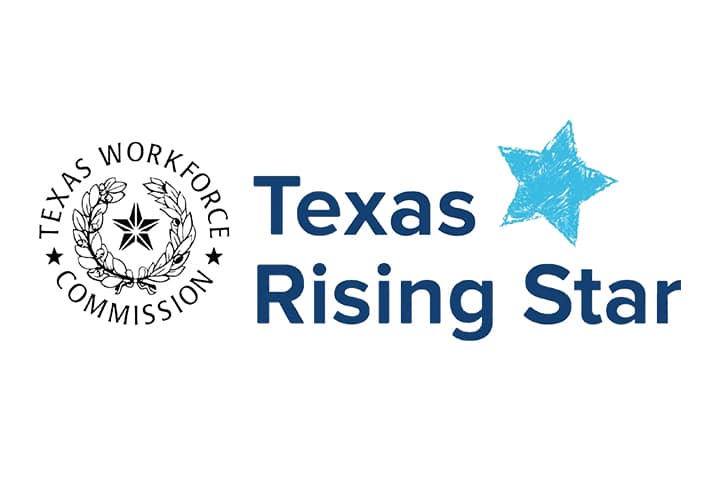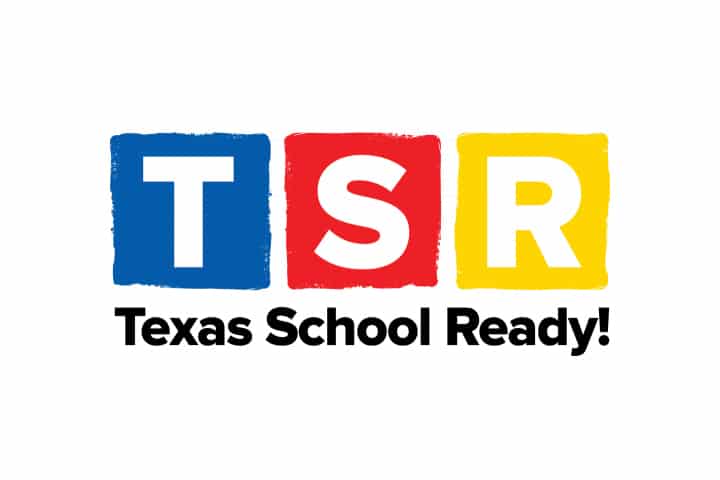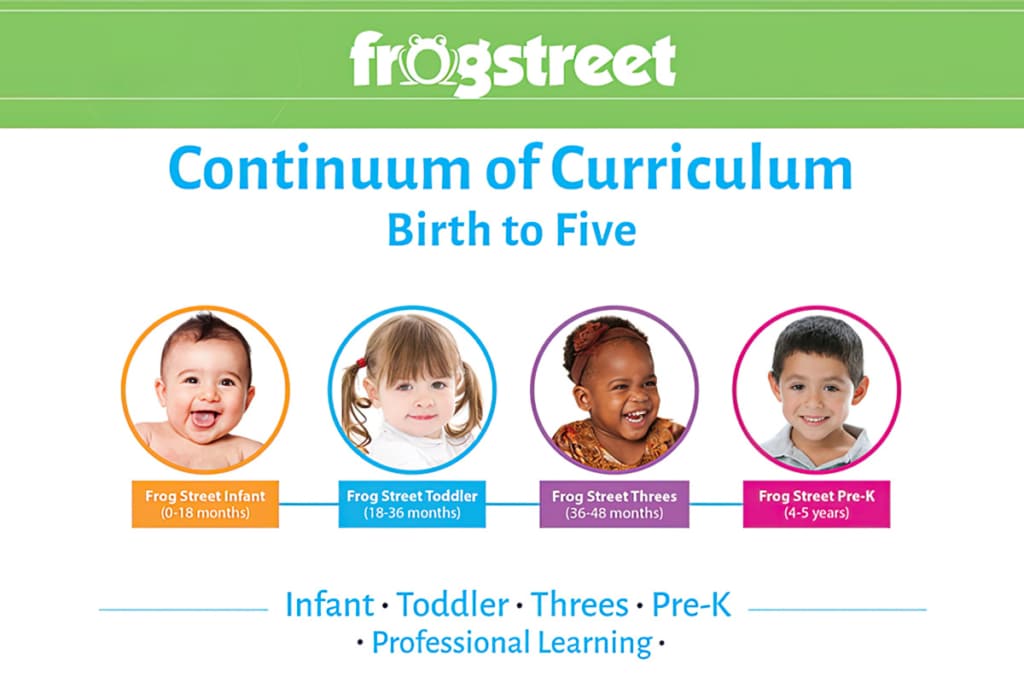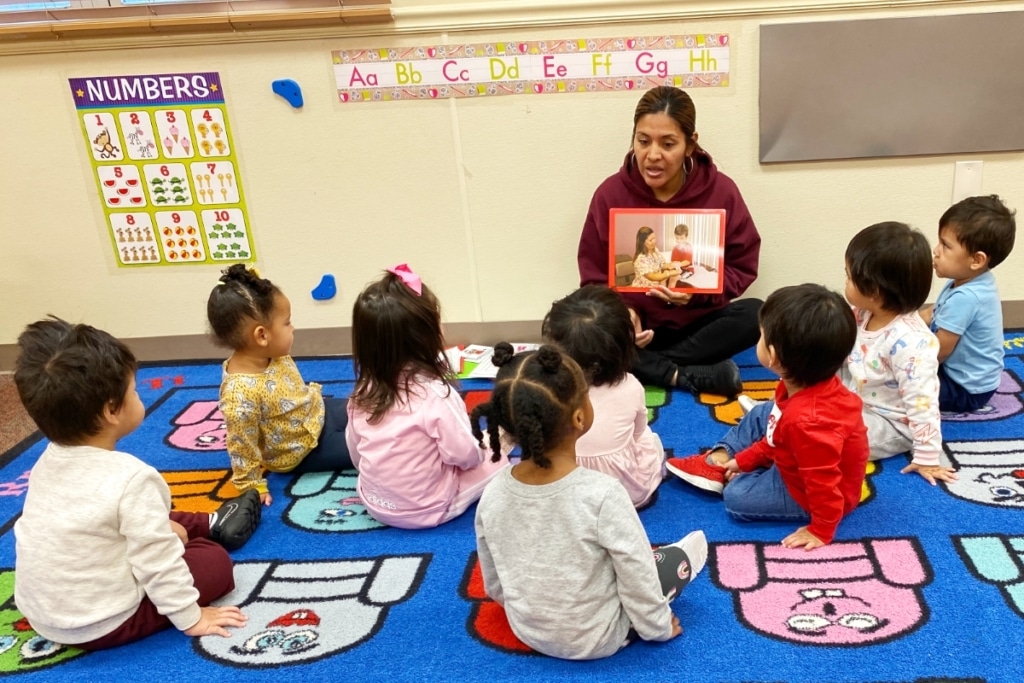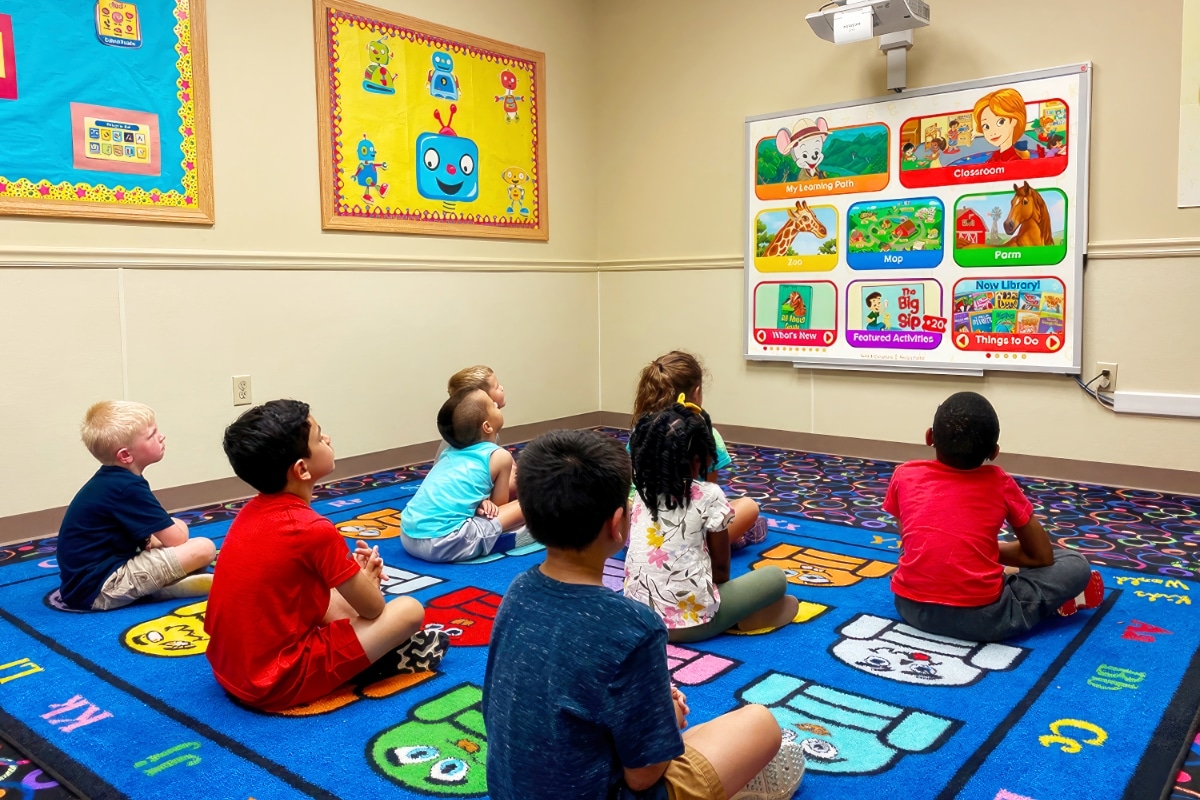 A Fully-Furnished Tech Room Helps Sharpen Skills
Equipped with a smart board and a digital education program, the tech room helps children learn their shapes and colors while refining their literacy and math skills. They'll develop new academic capabilities, all while feeling like they're playing!
Enriching Young Minds & Fostering Talents
Activities such as dance, gymnastics, Spanish, sign language, and soccer encourage your kids to think outside of the box and develop their left brains. These enrichment programs are made available at an additional nominal fee.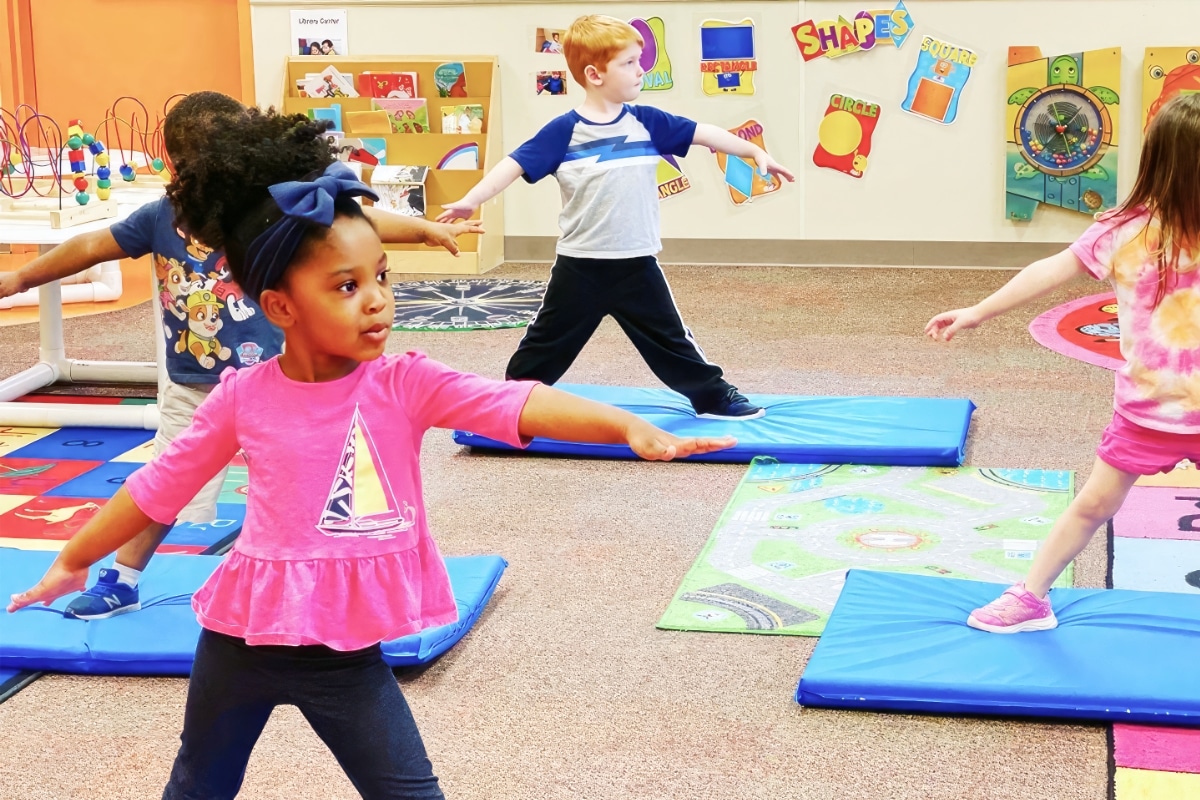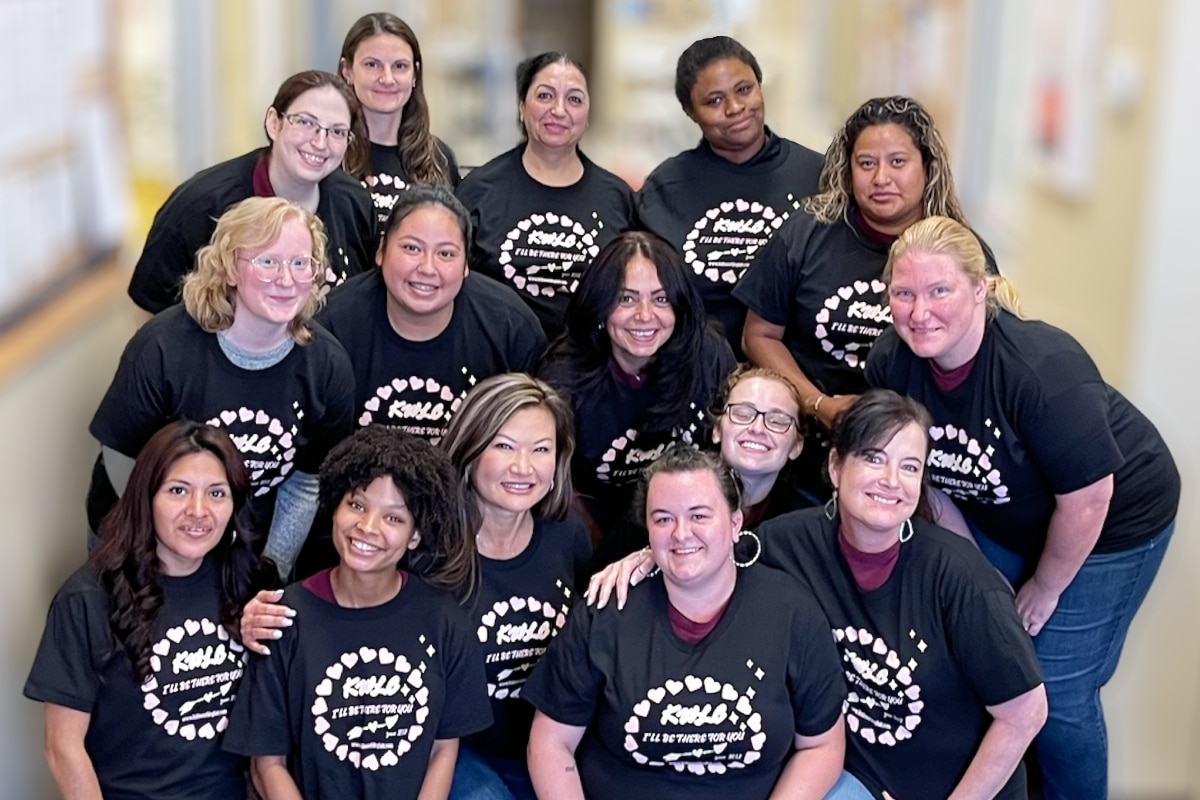 Handpicked, Highly-Qualified Teachers Mean Expert Care
Warm, caring staff have continuing education degrees and are first-aid as well as CPR-certified. They undergo Texas School Ready training and coaching monthly, which is an ongoing preschool teacher professional development program.
A Cozy, Secure Space To Rest In If Feeling Sick
When you're sick, you just want to be at home with your loved ones. A dedicated rest area offers a bed for kids to sleep away from the distraction of their peers while waiting for Mom or Dad to come to pick them up.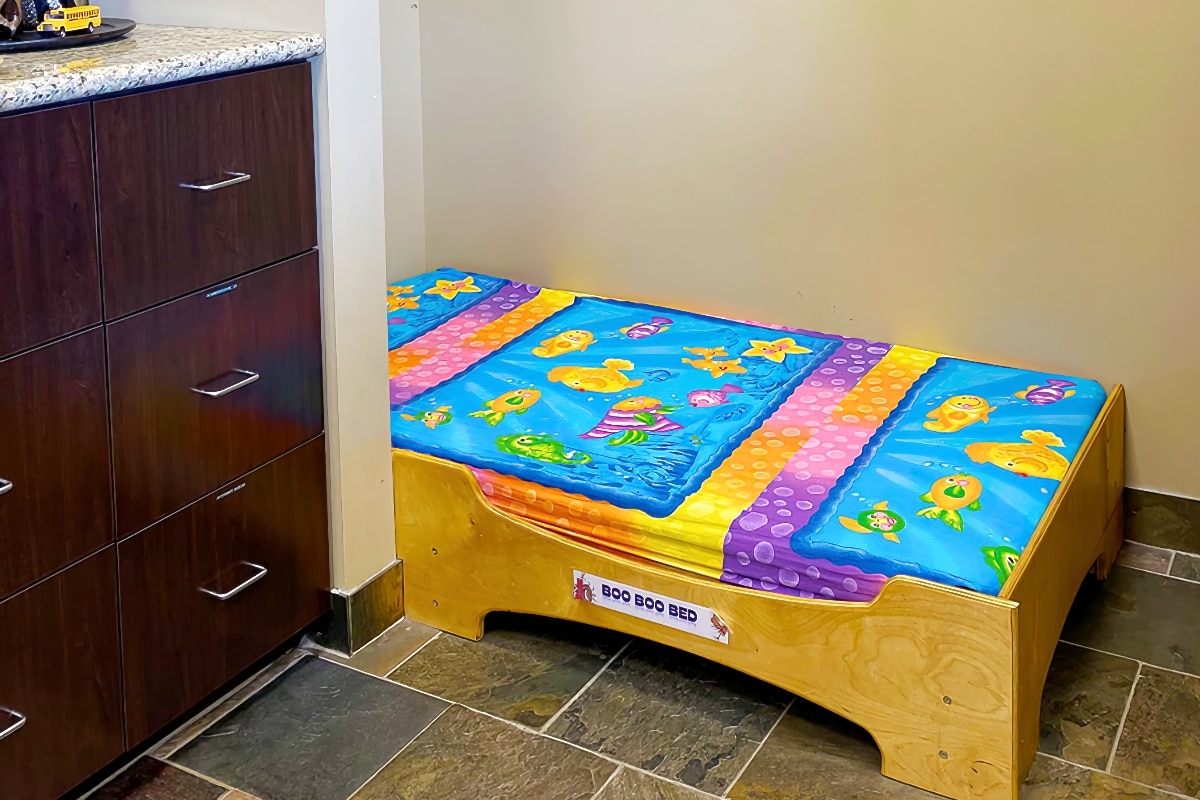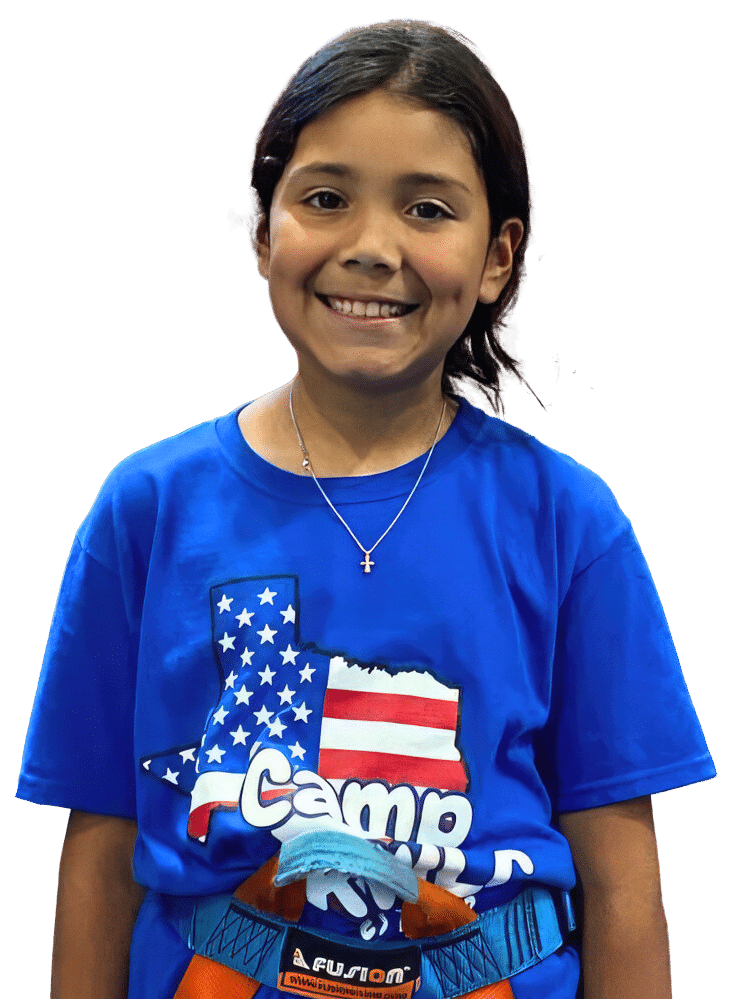 Helping You Make Care More Affordable & Accessible!
Your child deserves the very best, and it should be affordable for them to get a great start. We partner with Texas Workforce Solutions and Bright Horizons Back-Up Care so you have even more options to save on tuition costs. Click below for even more tuition savings!
Yes, We Offer Tuition Support Options
Hear What Parents Have To Say...
"I would recommend any and everyone to entrust!"
I love this place. I love coming and picking up my children knowing that they've been at Kids world after school in the best care possible. The staff are always friendly. Finding a diamond in the rough like Kid's world is a god send. I would recommend any and everyone to entrust their children here at kids world learning center.
- E B Klusacek
"I would recommend this place to any parents!"
I would definitely recommend this place to any parents. It's been almost 2 years that my 2 kids attend there. The staff and teachers are friendly, welcoming and very professional. Anytime there is an update on the kids, I'm first informed by phone and then at the facility with more details. My day less stressful because I know my babies are in very good care.
- Barbara Yomi
"I love Kid's World Learning Center!"
I am an extra curricular instructor at many schools around Houston and I love Kid's World Learning Center! All of the staff are as friendly as can be, willing to answer any questions you have. Every week when I walk through the cafeteria you can smell something delicious cooking! This is a great campus where you can tell everyone here loves what they do.
- Erin Hanlon
"Both of my kids have gone here. They love it!!!"
Both of my kids have gone here, basically their whole lives! They love it there! I love the peace of mind of a great Director and staff, there are cameras and a lot of security, it's always clean and the kids are happy. They have a great schedule of play, education, art, and more. I also am super appreciative that they aren't afraid to parent these kids.
- Jacqueline Swagerty
"We have been so fortunate!!!"
KWLC was the first place we looked when needed to find daycare. We have been so fortunate that what was near us was such high quality. We've had a kid in every class they have. We have a great relationship with the Admin team, and have had amazing teachers for our kids rooms. We can't imagine them being anywhere else!!
- Jamarcus Roberson
"Absolutely love Kid's world learning center!!!"
Absolutely love Kid's world learning center! Mrs. Courtney and Mrs. Nancy at the front desk are awesome. They Always greet you with a smile and a warm welcome! Mrs. Shiloh is wonderful with my 2 year old. I know my kids are safe and happy when they are there!
- Rechelle Thorne
"They have great staff, my babies are happy!"
They have great staff and my babies are always happy! I especially love how safe I feel like they are there and that there are live cameras. My kids have grown up with their classmates and have developed friendships even as young as they are. Kids world also offers other activities and sports, along with a ton of art projects they are always bringing home.
- Jackie B.
"I highly recommend this center to anyone!"
Kids World has an exceptional program. I have two young children that attend and they love it there. They offer curriculum for all of their classes that are specific to their age level and development. The lines of communication were always open and they made sure to continue what I was doing at home at school. I highly recommend this center to anyone!
- Christine R.
"The food options are hefty, healthy & flavorful."
We love it. He's learning so much. His teacher pushes/ encourages him to learn more and to do his best. The staff are all so friendly. He doesn't come home dirty and /or injured like he did at the previous child care center. The food options are hefty, healthy and flavorful. Great learning center. Reasonable and competitive pricing.
- Nikki W
"My son attends full time and loves the friends."
I used this facility for before and after school when going out of town. My daughter enjoys going to the after school program to "hang out" with friends after school. My son attends full time and loves the friends he's made and his teachers. He also loves the soccer program they offer, they also offer other programs for the young ones as well.
- Kimberly Williams Smith
"The staff is caring & child safety is a top priority!"
My kids have been attending kids world for almost 6 years and I could not be happier. The staff is caring and child safety is a top priority. My kids enjoy the curriculum, summer programs and field trips. My youngest completed Pre-k here and learned so much. Highly recommend Kids World Learning Center.
- Astrid Garcia
"I don't stress because my kids are taken care of!"
My son has been going to KWLC for almost and year now and I liked them so much I moved my daughter there as well. The owners are always there and put the kids first. The employees are amazing, you can tell they care for your kids. When I'm at work, I don't stress because I know my kids are being taken care of.
- Katie K.